Korg OT120 Orchestal Tuner
Product Code: MM60T120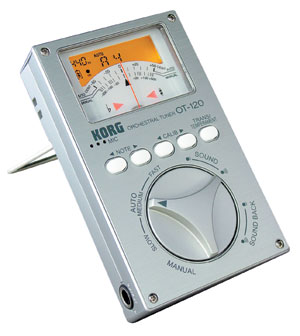 Tune string and wind instruments in a flash with the OT-120, a new band and orchestral tuner that combines the accuracy of needle-type meters with superior functionality, wide tuning range and a new, sleek vertical design.
Features:
* Chromatic orchestral and band tuner with a wide 8 octave detection range that supports both band and orchestra instruments
* Dual display provides both a needle-type meter and an LCD for excellent visibility
* Sound Back mode plays a reference pitch for the note that's closest to the input pitch. The meter indicates the discrepancy between the input and the correct pitch
* Multiple Temperaments support historical tunings
* Transpose mode is convenient for wind instruments
* Choose from three levels of needle response speed (slow, medium and fast)
* Both auto and manual tuning modes are provided
* Built-in reference tone plays in a five octave range
* Broad range of calibration (349 Hz -- 499 Hz)
* Built-in microphone supports acoustic instruments
* Energy-saving design for long battery life (approximately 100 hours)
* Durable soft case included
Vertical-design and superior visibility
The Korg OT-120 chromatic band and orchestral tuner is intended for orchestral instruments, packing precise performance and sophisticated functionality in a vertical design that's easy to hold and operate. The Korg OT-120 features a dual-display, an easy-to-see needle-type indicator and a backlit LCD screen that shows the battery life, sound output level, calibration, as well as key and note name.
Smooth and precise tuning you expect from a needle-type meter
This band and orchestral tuner uses a high-precision needle-type meter to accurately indicate any pitch discrepancy. The speed at which the needle responds to the input can be changed over a range of three steps; you can choose fast, medium or slow speeds to match your tuning preference.
You can also choose from two tuning modes; Auto mode, which automatically detects the pitch of a single note you play on your instrument, or Manual mode, which lets you specify the desired note name. In Manual mode, the needle movement is shown in a range of 50 cents, letting you view the tuning discrepancy over a wide range.
Support for transposing instruments and historical temperaments
The Multi Temperament function provides eight presets that cover the most popular historical temperaments often used with period instruments. These are also ideal for checking unique temperaments used in classical music.
Long battery life
The OT-120 is designed for an extended battery life of approximately 100 hours when running on two AAA batteries. It can also be used with an AC adaptor (sold separately).



Our Price: $89.99 USD
All above prices are in U.S. Dollars.


"These instruments are extremely well made and have a beautiful tone quality. I would recommend these violins to any of my fellow performers, teachers, and students."

-Cindy Crumb
Orchestra Teacher
Fairfax, Virginia
"As a teacher of high school students, I am always looking to find excellent instruments for a good price. I can recommend instruments of this quality without reservation. In fact, I'll be using one myself for touring and some of my own performances."

-Eric deWaardt
Violist National Symphony Orchestra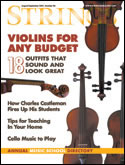 "Excellent playability, mellow tone, subtle response, and dynamic projection make this outfit a definitive favorite with our review team..."
-Strings Magazine
Review of Eastman Strings - maker of Prodigy Instruments

100% Satisfaction
Guaranteed for the first 7 days of ownership. If you're not fully satisfied, return the product in new condition and receive a full refund with no questions asked. Please click here to for the full return policy.

Lifetime Warranty!