A superior instrument for a superior performer

Is your current instrument producing exactly the sound youíve been working so hard for? Would your students make swifter progress if their string instruments werenít holding them back? With scholarships, careers and thunderous applause on the line, your choice of instrument could be the most important decision you make this year. Choose an instrument that was born to make musicians sound better, a Prodigy instrument.

Prodigy string instruments are created with one overriding goal: to take talented student musicians to their next level of performance. Our instruments are individually crafted by hand to exact specifications. They are specifically designed and set up to help you play your best. We travelled the world to find the woods and hardware that give a Prodigy instrument a clear rich sound. This is a sound that will impress everyone who hears it.

A work of art thatís truly playable

The first thing youíll notice when you pick up a Prodigy instrument is how enchantingly playable it is. Each one is carefully designed to be a joy to play. Perhaps the most important step of this process is the final one, the set-up. This is done with great attention to detail, in order to make a Prodigy instrument ready to play, straight out of the box. You will find your Prodigy instrument natural to play with little or no adjustment . Simply tune it, and begin your best performance to date.

This is the sound youíve been working for

Youíll find Prodigy instruments produce a strong, pleasing sound with less effort than youíre used to. Whether performing solo, or as part of the orchestra, a Prodigy performer will be heard right to the back of the concert hall. The instrument produces a broad, full sound, which is not easily overcome by other, more temperamental instruments. Prodigy musicians donít have to struggle to get the tone they want. So the student can focus more on dynamics and expression and less on persuading the instrument to deliver a pleasant sound.

Fractional sizes mean natural playability

Fractional sizing means students can concentrate on the music. No stretching fingers during difficult passages, or struggling with an instrument thatís too large or too small. Prodigy sizing allows students to make the transition to a larger instrument in more manageable steps. Having the appropriate sized instrument allows students to progress at a more rapid pace. The size of the instrument will no longer hold the student back.

A playable instrument thatís truly a work of art

Prodigy instruments are hand made at every stage of the process, ensuring the highest degree of quality control. Everything from the beautiful flamed maple to the exquisite hardware is chosen to make you sound your best. The wood that Prodigy uses to produce its signature sound is found naturally in the Far East. Prodigy allows you to own a superior hand-made instrument at a price thatís lower than many European models. See why Prodigy instruments are equal to, if not superior to their European counterparts.

What are performers saying about Prodigy Instruments?

Weíre passionate about helping talented musicians deliver powerful performances. But itís fair to want an objective opinion. Read what teachers and performers are saying about Prodigy.


"These instruments are extremely well made and have a beautiful tone quality. I would recommend these violins to any of my fellow performers, teachers, and students."

-Cindy Crumb
Orchestra Teacher
Fairfax, Virginia
"As a teacher of high school students, I am always looking to find excellent instruments for a good price. I can recommend instruments of this quality without reservation. In fact, I'll be using one myself for touring and some of my own performances."

-Eric deWaardt
Violist National Symphony Orchestra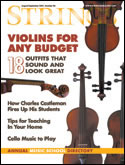 "Excellent playability, mellow tone, subtle response, and dynamic projection make this outfit a definitive favorite with our review team..."
-Strings Magazine
Review of Eastman Strings - maker of Prodigy Instruments

100% Satisfaction
Guaranteed for the first 7 days of ownership. If you're not fully satisfied, return the product in new condition and receive a full refund with no questions asked. Please click here to for the full return policy.

Lifetime Warranty!