Korg DT4 Chromatic Tuner. Regular price:$49.99. Featured Item.
Product Code: MM6DT4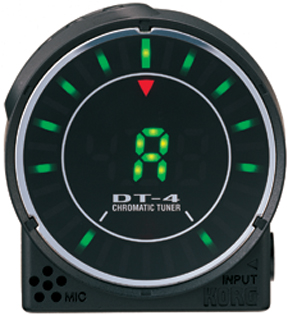 The design of this chromatic tuner emphasizes comfort and ease of use, with function-selecting switches placed for quick and easy access.
Features:
* Three new tuning modes
* Wide Detection Range of A0-C8
* Adjustable Calibration Range of 410Hz-480Hz
* Built-in condenser microphone
* Designed for low power consumption
Tuning comes full circle in this strobe tuner! The Korg DT-4 is a uniquely styled chromatic tuner with LEDs around its circumference, indicating how close the input pitch is to the note name displayed in the center. In spite of the compact size of this strobe tuner (fits in the palm of your hand), the illuminated circumference and large note name display provide excellent visibility, allowing high-precision tuning over a range of A0 (27.50 Hz)-C8 (4186.01 Hz). The adjustable calibration lets you specify the reference pitch in a range of 410 Hz-480 Hz (1 Hz steps).
Three new tuning modes
The DT-4 illuminates with green LEDs around its circumference in one of three tuning modes: Strobe mode, Mirror mode, and Meter mode. There are also triangular red tuning guides that indicate whether the input is sharp or flat, helping you tune your instrument more precisely.
Strobe mode
The green LEDs will stop moving when your instrument is in tune. The LEDs will move in a clockwise direction if the pitch of your instrument is sharp, or counter-clockwise if it is flat. When the tuning is correct, the two tuning guides will also light simultaneously.
Mirror mode
Mirror mode is a new concept of tuning found only in the DT-4. When the two green LEDs at the lower left and right coincide, you're perfectly tuned. The bright green LED of this hand held tuner will move to the right of center if the input pitch is sharp, or to the left if it is flat. The distance between the bright green and dim green LED's indicate the distance to perfect tuning.
Meter mode
Tune your instrument so that the bright green LED is aligned with the red tuning guide in the center as on a conventional needle type tuner.



| | |
| --- | --- |
| Sale Price: $40.00 USD | |
All above prices are in U.S. Dollars.


"These instruments are extremely well made and have a beautiful tone quality. I would recommend these violins to any of my fellow performers, teachers, and students."

-Cindy Crumb
Orchestra Teacher
Fairfax, Virginia
"As a teacher of high school students, I am always looking to find excellent instruments for a good price. I can recommend instruments of this quality without reservation. In fact, I'll be using one myself for touring and some of my own performances."

-Eric deWaardt
Violist National Symphony Orchestra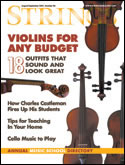 "Excellent playability, mellow tone, subtle response, and dynamic projection make this outfit a definitive favorite with our review team..."
-Strings Magazine
Review of Eastman Strings - maker of Prodigy Instruments

100% Satisfaction
Guaranteed for the first 7 days of ownership. If you're not fully satisfied, return the product in new condition and receive a full refund with no questions asked. Please click here to for the full return policy.

Lifetime Warranty!