K.Holtz FG model 10 fiberglass bow violin
Product Code: B-FG10-VN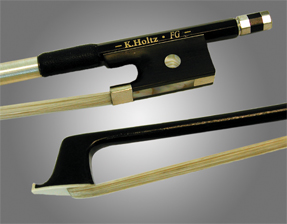 K.Holtz PG Fiberglass Bows
The most important bow a player will ever use is the first one. A beginning player should not have to make a large investment in his or her first bow. At the same time, it is unrealistic to expect an inexperienced player to excel if he or she is forced to play with poorly balanced, weak, or warped bow.

K.Holtz PG bows require no compromise - they are designed with beginning players' specific needs and budgets in mind. These strong, well-balanced, attractive bows produce a smooth, clear sound without a lot of physical effort from the player. And with K.Holtz PG bows, players can invest their efforts in improving their playing without having to invest a lot of money in their bows.
K.Holtz FG model 10 fiberglass bows
Good weight and balance
Smooth, clean sound
Extremely durable material and construction
Classic ebony frogs mounted in nickel silver and mother-of-pearl
Silver-plated wire winding and genuine leather grip
Genuine unbleached Mongolian horsehair
Violin bows available in sizes 4/4 - 1/16, including 1/10
Viola bows available in sizes 4/4 - 1/2
Cello bows available in sizes 4/4 - 1/10
Bow Tutorial: Fiberglass

This is the substance used to make many student bows (including the K.Holtz FG). Fiberglass is made by combining long fibers (for strength) with a chemical binder that hardens into a glass-like substance. Of course, the type used to make bows is flexible and tough, so it won't shatter like normal glass. While most professional players use pernambuco or carbon fiber bows, fiberglass is an ideal material for making student bows, because it is strong, flexible, and inexpensive to make.



Our Price: $38.00 USD
All above prices are in U.S. Dollars.


"These instruments are extremely well made and have a beautiful tone quality. I would recommend these violins to any of my fellow performers, teachers, and students."

-Cindy Crumb
Orchestra Teacher
Fairfax, Virginia
"As a teacher of high school students, I am always looking to find excellent instruments for a good price. I can recommend instruments of this quality without reservation. In fact, I'll be using one myself for touring and some of my own performances."

-Eric deWaardt
Violist National Symphony Orchestra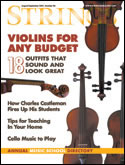 "Excellent playability, mellow tone, subtle response, and dynamic projection make this outfit a definitive favorite with our review team..."
-Strings Magazine
Review of Eastman Strings - maker of Prodigy Instruments

100% Satisfaction
Guaranteed for the first 7 days of ownership. If you're not fully satisfied, return the product in new condition and receive a full refund with no questions asked. Please click here to for the full return policy.

Lifetime Warranty!